I'm undergoing a huge project in December and that is to redecorate my shared room. After months of begging my parents to let me tear down our existing old yellow-blue wallpaper, they finally agreed. Imagine seeing the same wallpaper for 17 years, no questions asked but it's really got to go!
I have a lot of limitations to my room because budget is tight, space is tight and i'm not sure exactly how far my parents will let me go with redecorating. I'm pretty sure they think i'm just going to rip out the wallpaper and paint the walls but there's so much more ideas that going about in my head.
Like...
1. Replacing our current beds
2. Paint the build in wardrobe a different colour or attach mirrors to them to make the room bigger
3. Get rid of our frosted glass window and find something that still gives us our privacy but lets in more light to the room (Our room faces the corridor)
4. Paint the grilles to match the room
Yeah... I have so much unnecessary money and time to do all this.
I love the idea of a breezy, light and airy room and have to work around that with all the resources that i've got. Hopefully, i can DIY some items and keep the cost low.
Fingers crossed!


Anyway, Here are some of my inspirations so far...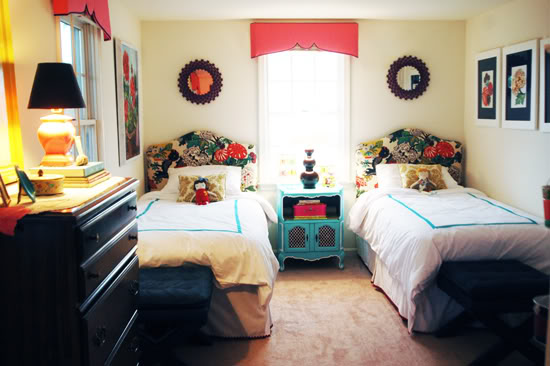 I really love this bedroom.
White with accents of bright yellow and geometric prints.
To do all this, i need to start decluttering our room and i'm sure my sister wont be too happy with me clearing out her junk. She's as much of a pack rat as my mum and i are. So much i want to do and it's gonna be a slow step by step process so i'm really excited.
Wonder if i should keep to a theme for the room or not.
But first up, wallpaper's coming off!
Till then,
Melissa